The History of Capitol Hill Florist and Gifts
Planting the Seeds
Founded in 1932 by Chester and Nell Whitnah, Capitol Hill Florist and Gifts has one of the longest family florist legacies in the state of Oklahoma.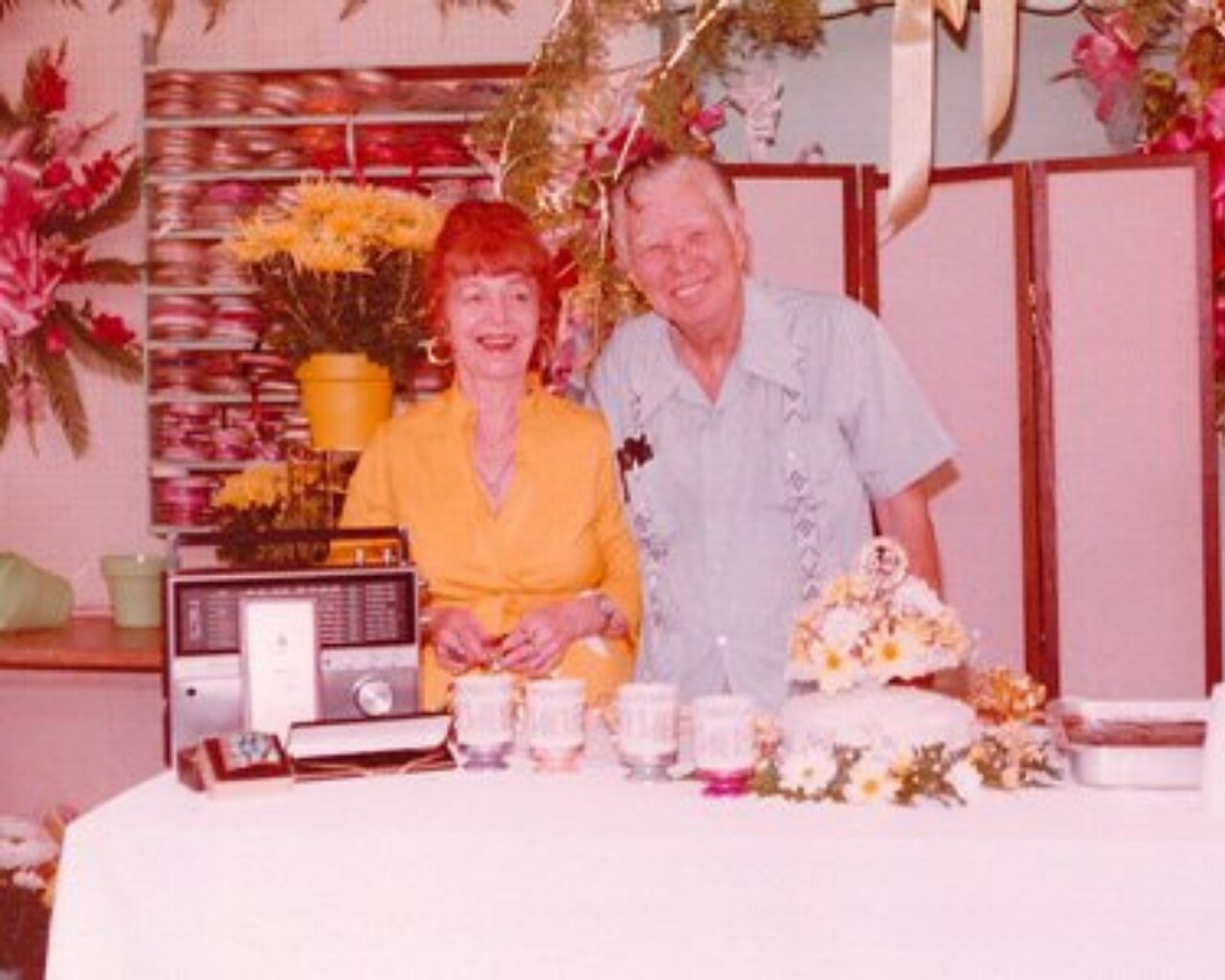 Chester began selling flowers out of his father Louis' greenhouse in 1928. As demand grew, Chester built more greenhouses and a small sales room. In those days, the greenhouses were equipped with coal-burning stoves for heat and an icebox (that required a 100 lb block of ice every two days) for refrigeration. They began selling fresh-cut flowers in 1932. Chester had two acres under irrigation and they grew many of their own flowers.
Chester and Nell were an important part of so many families' lives in Capitol Hill. Even during the difficult years of the Great Depression, flowers were a source of comfort and an expression of sympathy and joy. And, while World War II raged, they filled many orders from overseas servicemen who wanted to keep that connection at home. In 1947, Chester bought a "State of the Art!" electric floral refrigerator and moved into a new retail shop at 215 SW 33rd St - in the heart of Capitol Hill. Nell never met a stranger and was always ready to support a worthy cause. Her signature red hair became a trademark. She would always state that their business began by selling flowers "off of the back porch and out of the cellar."
On June 26, 1929, Jack Whitnah was born - Chester and Nell's only child. Jack literally grew up in the floral industry. He joined the 45th Infantry Band in 1948 and was activated to Korea in September of 1950. Upon his return to Oklahoma City in 1952, Jack went right back to work in the family business.
Cultivated with Love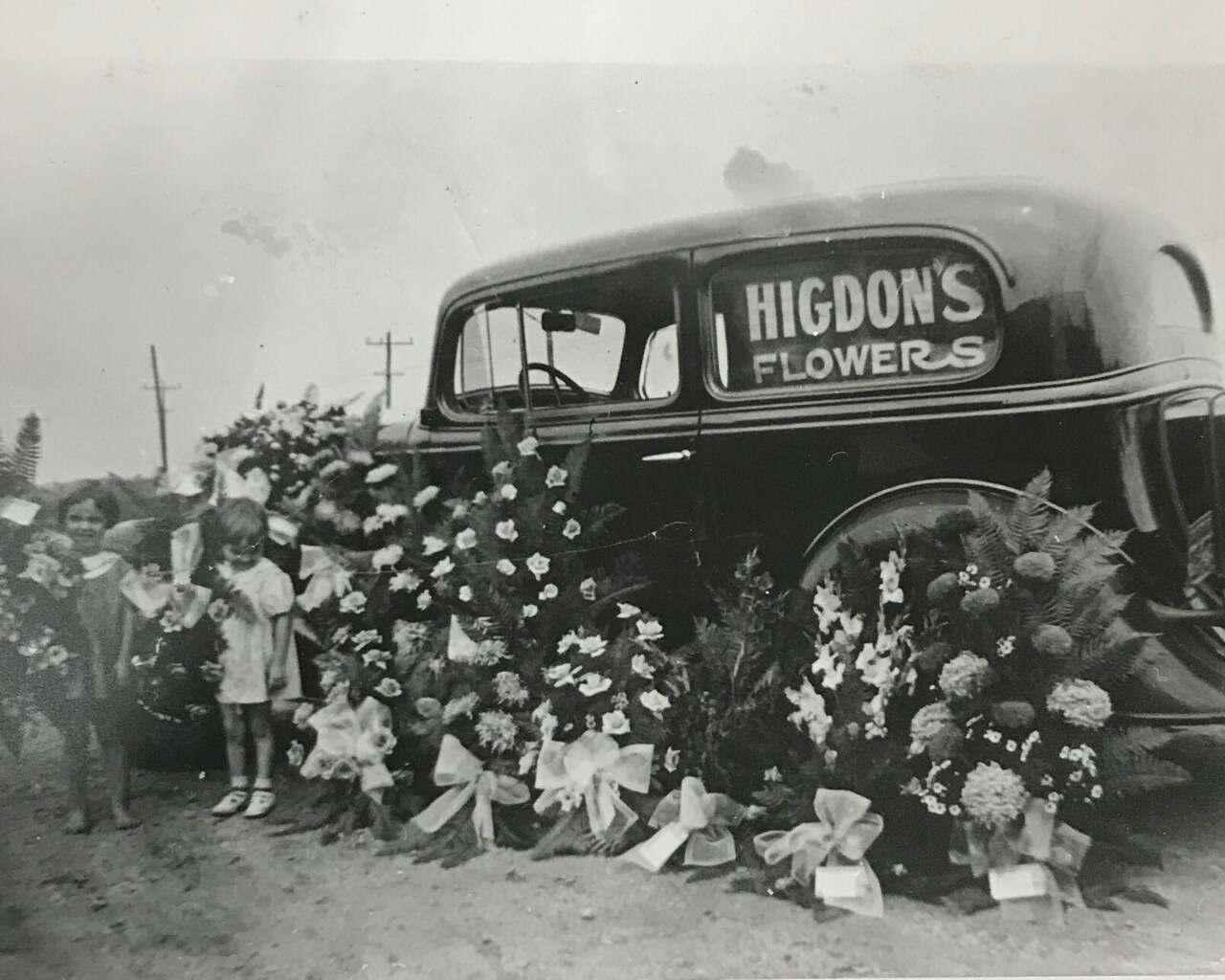 The staying power of our company is rooted in the unique heritage that our 2nd generation of ownership possessed. Jack Whitnah met Burny Higdon at a florist convention in 1952. Burny's family owned Higdon's Florist and Greenhouses, the largest floral and greenhouse operation in the state at that time. Higdon's began in 1927 on old Route 66 just West of May Avenue, in Oklahoma City.
Jack and Burny were married the next year - April 18, 1953. Burny brought with her the Higdon motto of "Many Hands Together And Soon The Work Is Done!" that quickly became a Whitnah creed. Jack and Burny began not only a marriage that lasted over 60 years, but also continued to build a business on what they knew best – FLOWERS!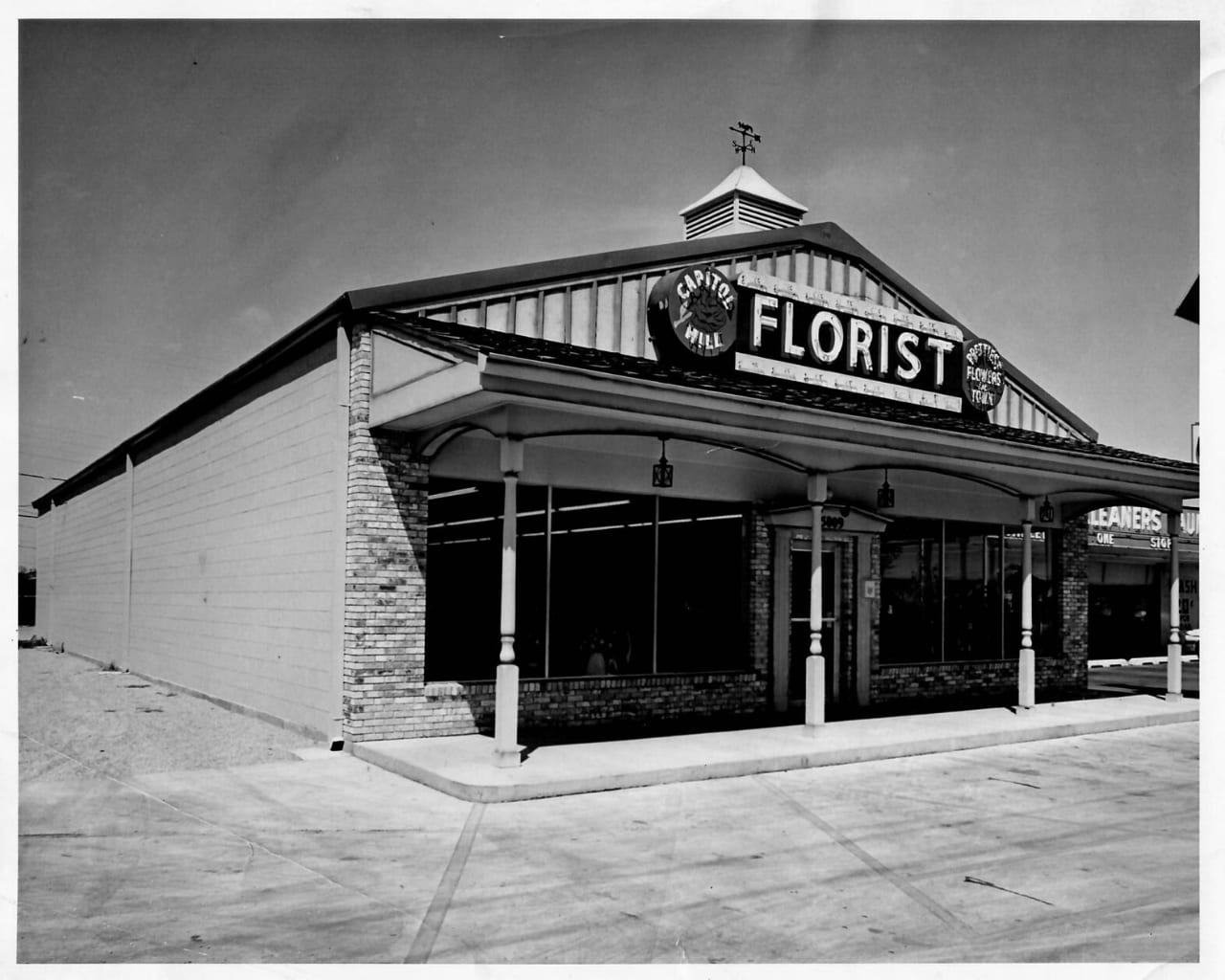 Capitol Hill Florist and Gifts moved to 1433 SW 29th St in 1954. The leased space next to a TG&Y was much bigger and in a great location.
In 1964, ground was broken on a 5000 square foot floral shop located at 5809 S Western Ave - still known as our Main Store to this day. Nell had always been quoted in saying that at the time they built, there was "nothin' but mud from here to Norman!"
From there, the Whitnah family grew the business in good times and survived the bad. And as their business grew, so did the family. Jack and Burny had 4 children: Nikki (1954), Dee Ann (1957), Ted (1960), and Kent (1966). After marriages, grandchildren, and great grandchildren, the total number of family members has reached 33! The whole family (including Burny's sister, Char Higdon-Gulick) would pitch in and help during the biggest holidays. Whether it was design, delivery or just sweeping up, it was and still is a family affair.
Jack passed away on September 2, 2017. His obituary information can be found here.
Burny passed away on September 20, 2019. Her obituary information can be found here.
The Blossoms Continue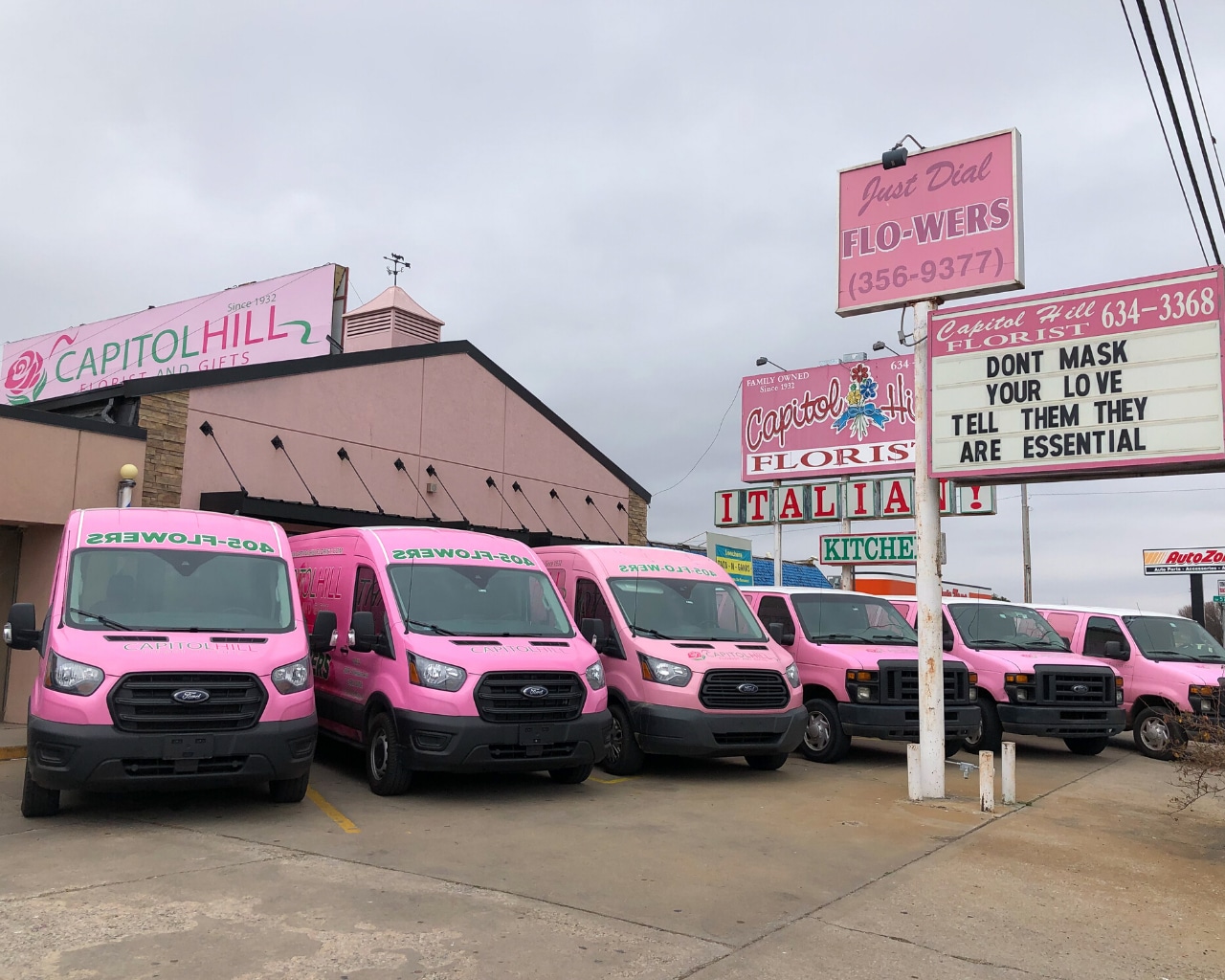 The 3rd generation of ownership began in 1990. Kent Whitnah carries on the tradition of reliable freshness and quality of product, along with extraordinary customer service. 4th and 5th generation grandchildren have routinely worked their way through high school and college by pitching-in at the shop. Kent's kids do too; Chet (1996), Shaley (1998), and Cooper (2004).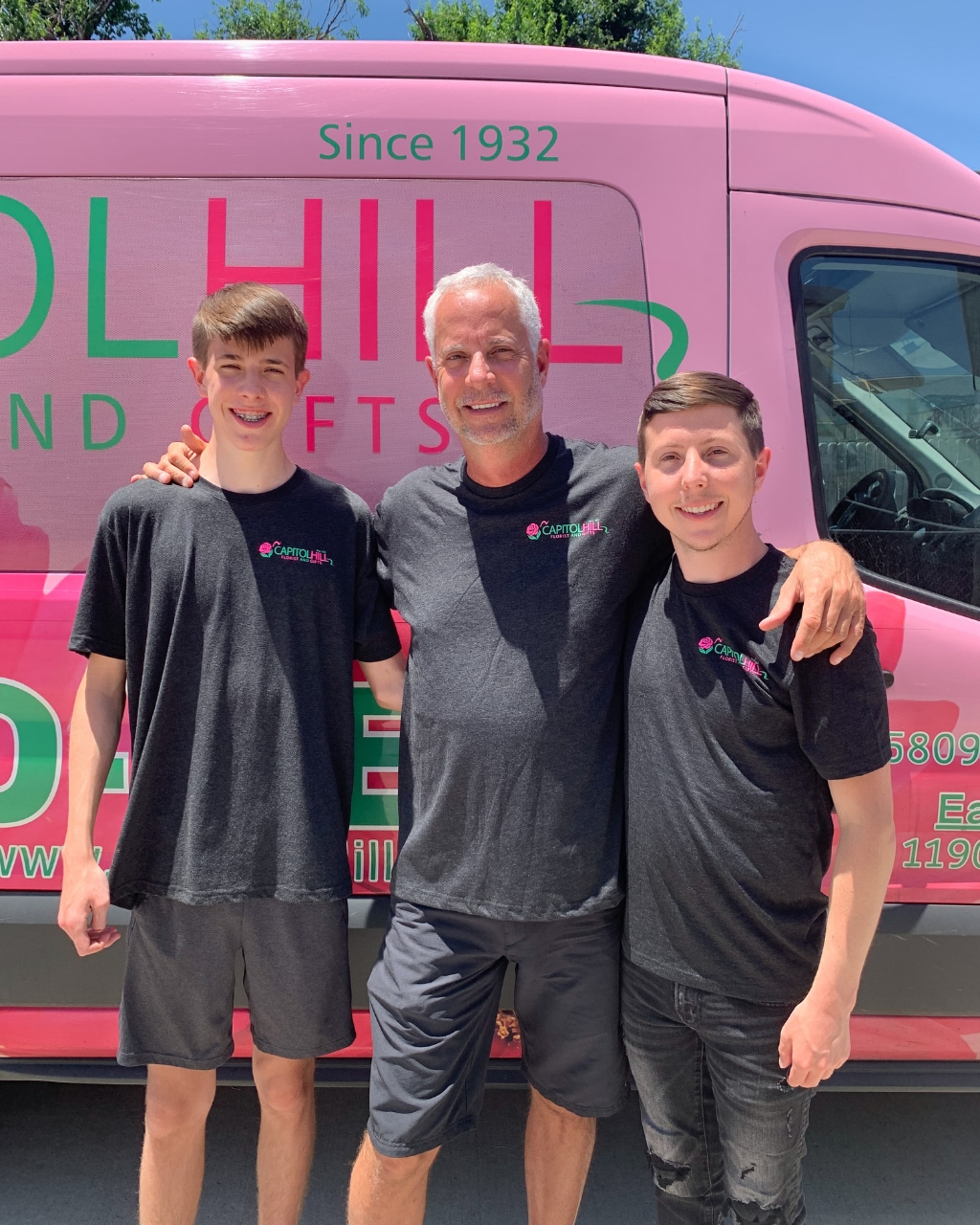 Kent is a graduate of the University of Oklahoma; BBA, MIS in 1988.
In 1994, the company acquired the local phone number 405-356-9377. This easy-to-remember phone number spells FLOWERS and has proved to be a very successful marketing tool.
In 2001, Kent partnered with a local wholesaler to ensure consistent delivery of fresh floral product. Over 95% of Capitol Hill Florist and Gifts' flowers are shipped "cold chain". That is, they are kept in a climate-controlled environment throughout the shipping process from the farm. This climate control is the single most important post-harvest procedure to ensure freshness and increased longevity of cut flowers.
In 2005, we built a new 7000 cubic foot walk-in cooler - possibly the largest cooler for a retail florist in the state. All of our flowers and orders are kept at 34 degrees until they are ready for delivery. We are proud to offer same-day delivery anywhere in Oklahoma City Metro Area. We typically accept delivery orders up until 2:00 PM. We believe that this is the latest cutoff of for any florist in OKC.
We Are Growing
In 2009, we opened a second location about 5 miles South of the Main Store. The shop is located at 11904 S May Ave, across from the Earlywine Park, and specializes not only in floral arrangements but also has an extensive line of gift items. The new store is thriving and is filling a much-needed niche in the growing Westmoore area.
In December 2021 we purchased the lot adjacent to our 5809 S Western Ave location (5801 S Western Ave) and tore down the previous building – which had been vacant and left declining for years. After much planning with Ted Whitnah Construction and applying for a variance with the Oklahoma City Council, we were finally approved to build on the property in January of 2023. This building consists mostly of garage space to protect our delivery vehicles and allow our drivers to load out of any outside elements. It also houses our offices, breakroom area, and a secondary cooler for delivery orders. The project was completed and fully operational as of July.
It Takes a Village
While the Whitnah Family has persevered over the past 90 years, we know that the success of our company is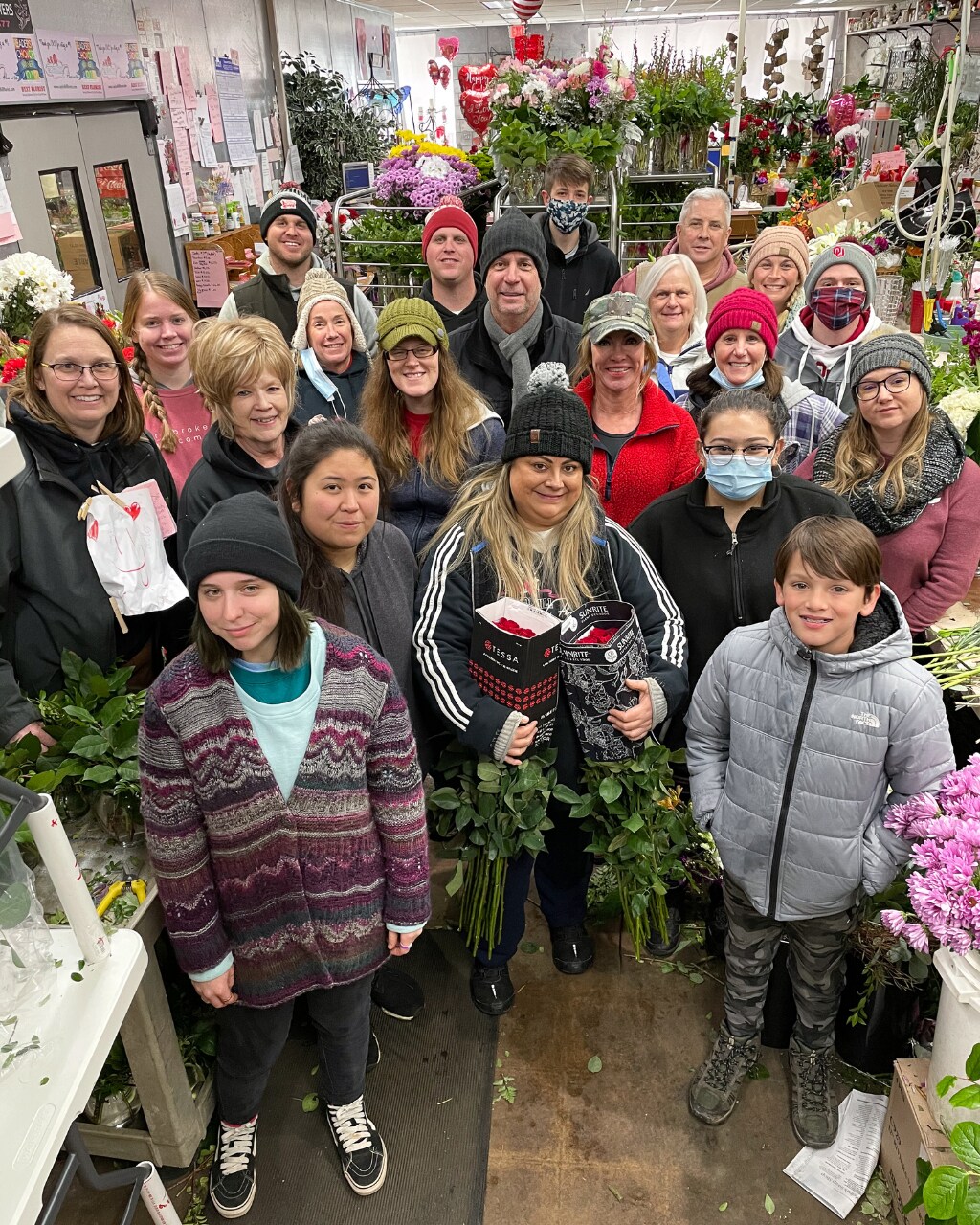 a direct reflection of the effort, skill, and dedication of our current and past employees - as well as the brothers, sisters, nephews, nieces, children, grandchildren, and great grandchildren that help out during the holidays.
Our Manager, Patty Wiggins, has been working at Capitol Hill Florist and Gifts since 1994. She has been instrumental in our growth and is primarily responsible for the day-to-day activities at our two locations. Patty and the entire staff are an extended family of well-trained professionals with over 150+ years of experience in the floral industry. In 2016, Kent was very pleased to have Patty join him as a Co-Owner of the company.
In 2020, Chet graduated from the University of Oklahoma with a Bachelor of Science in Plant Biology. He is now working full-time as the Marketing Coordinator of Capitol Hill Florist and Gifts and has become a "jack" of all trades by learning many facets of the floral industry from delivery to design and everything in between.
Awards And Memberships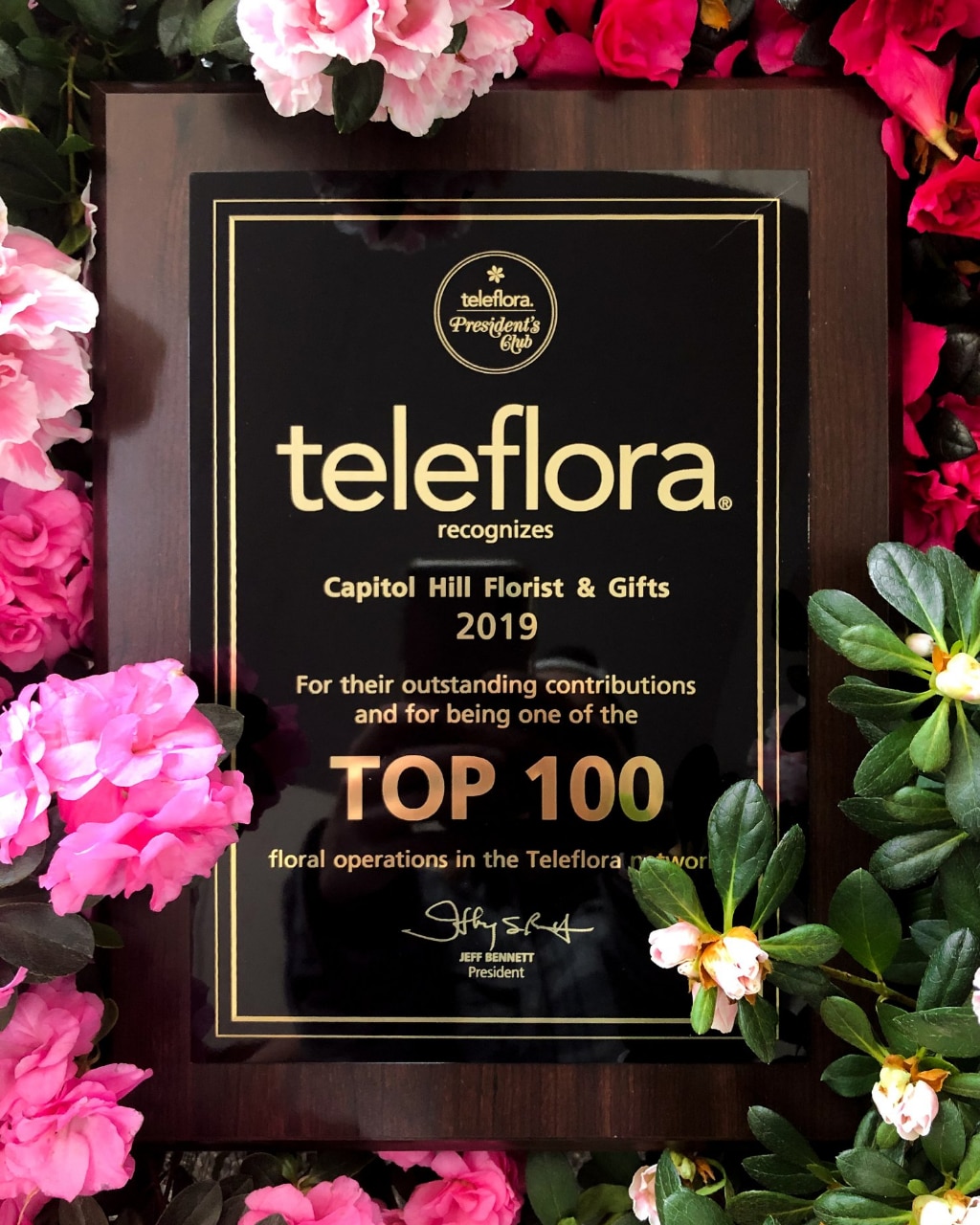 Teleflora Member Since 1965 – Top 100 Teleflora Florist Nationwide
F.T.D. Member from 1952 to 2003 - 51 Years
TeamFloral Member Since 2009
Society of American Florists
Oklahoma State Florist Association
Oklahoma City Chamber of Commerce
South Oklahoma City Chamber of Commerce
We have won or placed in the Top 5 of the Reader's Choice Award for Best Florist in:
The Daily Oklahoman
The Oklahoma Gazette
The El Nacional
The Moore Monthly
The El Latino Newspapers
Kent and Capitol Hill Florist and Gifts are proud supporters of OU Athletics and have been continual members and contributors to The Sooner Club since 1992.
In 2032, we will celebrate our 100th Anniversary.