HISTORY OF CAPITOL HILL FLORIST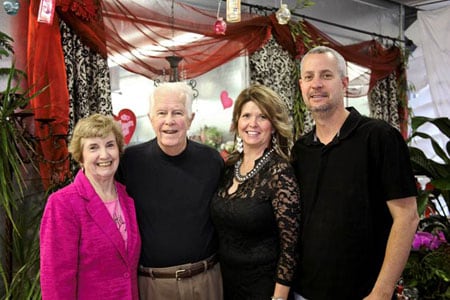 Planting the Seeds
Founded in 1932 by Chester and Nell Whitnah, Capitol Hill Florist and Gifts has one of the longest family florist legacies in the state of Oklahoma.
Chester began selling flowers out of his father's greenhouse in 1928. As demand grew, Chester built more greenhouses and a small sales room. In those days, the greenhouses were equipped with coal-burning stoves for heat and an icebox that required a 100 lb block of ice every two days. In 1932, they began selling fresh-cut flowers. Chester had two acres under irrigation and grew many of their own flowers.
During the The Great Depression and WWII, Chester and Nell were a vital link for many families in Capitol Hill. Even during the difficult depression years, flowers were a source of comfort and an expression of sympathy and joy. Many of their orders were from overseas servicemen wanting to keep a connection with home.
In 1947, Chester bought a "State of the Art" electric floral refrigerator, and moved to a new retail shop at 33rd and S. Robinson, in the heart of Capitol Hill in Oklahoma City.
Nell never met a stranger and was always ready to support a worthy cause. Her signature red hair became a trademark. She would always state that their business began by selling flowers "off of the back porch and out of the cellar."
On June 26, 1929, Jack Whitnah was born. Chester and Nell's only child, Jack literally grew up in the floral business. He joined the 45th Infantry Band in 1948 and was activated to Korea in September 1950. Upon return to Oklahoma City in 1952, Jack went right back to work in the family business.
Cultivated with Love
The staying power of our company is rooted in our unique heritage of multi-generational ownership. Jack Whitnah met Burny Higdon at a florist convention in 1952. Burny's family owned Higdon's Florist and Greenhouses, the largest floral and greenhouse operation in the state at the time. Higdon's began in 1927 on old Route 66 just west of May Avenue, in Oklahoma City.
Jack and Burny were married April 18, 1953. Burny brought with her the Higdon motto "Many Hands Together and Soon the Work is Done!" this became the Whitnah Creed. Jack and Burny began not only a marriage that has lasted 60 years, but also continued to build a business on what they knew best – FLOWERS!
In 1954, Capitol Hill Florist moved to 1433 S.W. 29th. The space was much bigger and a great location, next to TG&Y.
The ground breaking for our 5,000 sq. ft. main store, at 5809 S. Western Ave., was in 1964. Nell was quoted as saying that at the time they built there it was "Nothin' but mud from here to Norman!"
From there, the Whitnah family grew the business in good times and survived the bad. And as the business grew, so did the family. Jack and Burny had four children; Nikki, Dee Ann, Ted and Kent. After marriages, grandchildren and great grandchildren the total number of family members has reached twenty-six.
The whole family, including Burny's sister Char Higdon-Gulick, would pitch in and help on the biggest holidays. Whether it was design, delivery or just sweeping up, it was and still is a family affair.
Jack and Burny both turned 83 in 2012. Jack still comes in to the office most every day and Burny helps out on occasion.
The Blossoms Continue
In 1990, the 3rd generation of ownership began. Kent, Jack and Burny's youngest, is a graduate of the University of Oklahoma; BBA, MIS in 1988. He spent five years as Customer Service Supervisor at Cox Communications before taking over the business from his parents.
Kent and Cindy Whitnah carry on the tradition of reliable freshness and quality of product, along with extraordinary customer service. Fourth generation grandchildren have routinely worked their way through high school and college by pitching-in at the shop. Kent and Cindy's kids will too; Chet (16), Shaley (14) and Cooper (8).
In 1994, the company acquired the local phone number (405) 356-9377. This easy-to-remember phone number spells FLOWERS and has proved to be a very successful marketing tool.
In 2001, Kent partnered with a local wholesaler to ensure consistent delivery of fresh product. Over 90% of Capitol Hill Florists flowers are shipped "Cold Chain," meaning they are kept in a climate-controlled environment throughout the delivery process from the farm to the customer. This climate control is the single most important post-harvest procedure to ensure freshness and increased longevity of fresh flowers. In 2005, the main location added a 7,000 cubic foot walk-in cooler, where all flowers and deliveries are kept at 35 degrees until ready for delivery.
We are proud to offer Same-Day Delivery anywhere in Metro Oklahoma City. We typically accept local same day delivery orders until 2 p.m., later than most other florists.
Still Growing.
In 2009, we opened a second store, at 11904 S. May, about five miles south of the main store. The thriving Earlywine store has the same great floral selection as well as an extensive line of gift items and fills a much-needed niche in the growing Westmoore area.
It Takes a Village
While the Whitnah Family has persevered over the last 80 years, we know that the success of Capitol Hill Florist is a direct reflection of the effort, skill and dedication of our current employees and many employees over the years.
Our Manager, Patty Wiggins has been with the company for 18 years. She has been instrumental in our growth and is responsible for the day-to-day activities at both locations. Patty and the entire staff is an extended family of well-trained professionals with over 150+ years of experience in the floral industry.
Awards and Memberships
Capitol Hill Florist is the largest retail floral shop in the Oklahoma City area according to The Journal Record. In 2012, we celebrated our 80th Anniversary, and also won the Reader's Choice Award for Best Florist in the Daily Oklahoman, the El Nacional and the El Latino newspapers.
Kent, Cindy and Capitol Hill Florist are proud supporters of OU Athletics and have been members and contributors to The Sooner Club since 1992.
Teleflora for over 60 years
Top 500 Teleflora florists nationwide
F.T.D. for over 60 years
TEAM Floral Society of American Florists
Oklahoma State Florist Association
Oklahoma City Chamber of Commerce
South Oklahoma City Chamber of Commerce