Top Ten Reasons Why Our Flowers Are Cooler
Our flowers are shipped to us in climate-controlled trucks. Some local florist rely on FedEx or UPS for the shipment of their flowers, which means that their flowers are exposed to extreme temperatures for long periods of time at various airports. Ours are not. This cold-chain management has been proven to be the single most important thing we can do to maintain the longevity of life and freshness of our flowers.

90% of our flowers receive their first cut and drink of water here at our shop. The first cut is the most important and we take care to ensure that all of our major bulk shipments of flowers are cut first by our experienced floral professionals.

Our flowers are cut underwater in clean tanks. Cutting flowers under water is a unique technique that's been beneficial to flowers for their freshness, blossom size, stem stability and longevity of vase life.

We use hydration solution on our roses and other weak-stemmed flowers. This hydration solution allows the flowers to more readily absorb the water and nutrients in the water. This technique prevents "bent neck" and makes the stems much more stable. This solution gives the flowers extra nutrients that promotes blossom size and increases the longevity of the flowers.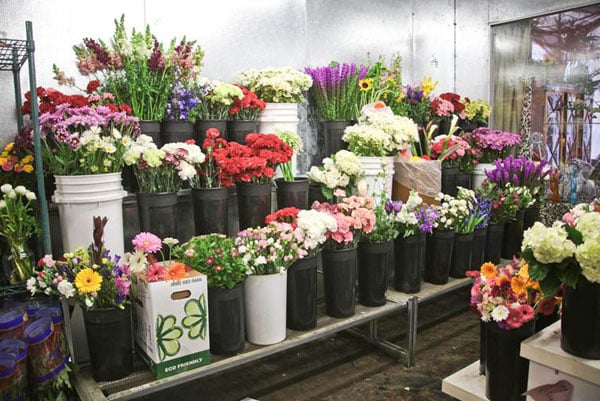 Our flowers are stored in our state-of-the-art 7000 cubic feet cooler kept at a perfect 35 degrees. Our spacious cooler is 10 feet high, so we can store all of our flower arrangements, deliveries, party work and wedding designs in the cooler until time for delivery.

All of our fresh flower arrangements are hand delivered. We are a family-owned business and have promptly hand delivered our flowers since 1932 by our own courteous and friendly employees. We do not use contractors or delivery services to deliver our flowers.

Our local delivery vans have rear air-conditioning. This is yet another important part of the cold-chain process. We believe it is absolutely necessary to keep our deliveries as cool as possible while delivering to your door on those hot summer days.

All arrangements are professionally designed. Our floral professionals are the most experienced in the business and our arrangements are always originally created by hand.

Our orders are delivered same day! Better than FedEx and UPS, we get your order delivered the same day you place your order.

The flowers you receive from us are fresh and newly created. Because of our large volume of business, our flowers are constantly being rotated for beautiful designs and are not stored for long periods of time.